the latest from the Beezwax blog
FM Ninja Toolbelt: Textmate Bundle
Lighter, Smarter, Friendlier: FM Read-only Fields
Managing Files with AppleScript
@beezwaxteam
We are now using Twitter to share news, events, ideas and links to our blog.
Follow us to check out our tweets. And let us know if we can help you integrate Twitter into your website.
Clients Are Talking
THANK YOU for your expertise in building us a system that the staff loves to use... Just today I noticed the clever way the system solves a very obscure problem we've had for years... It just made me giddy!

–Lisa Edd

Managing Editor, Here Comes The Guide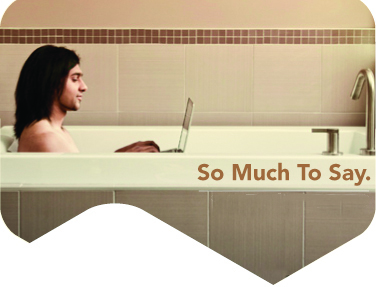 So Little Time.
As you read this, around the world, tens of thousands of versions of The Great Novel are being written — rapidly and with great dedication. November is National Novel Writing Month. And while the authors compose their 50,000-word masterpieces, they support one another through the web-based social network provided by the sponsoring organization, The Office of Letters and Light. This year is the most verbose ever... the most participants, the most demands on the infrastructure — and everything is going quite smoothly.
This would not have been possible without Beezwax.

–Chris Baty

Executive Director, Office of Letters and Light
At Beezwax, we create efficiency at work. For this client, we needed to redesign their websites with a more robust infrastructure — to support the writing work of the authors. This relied on our skills as programmers. But the other part of the job was to work in collaboration with our client's in-house technical team — rapidly and seamlessly. This relied on our skills as communicators.
The Developers knew what to implement, and when to make suggestions. They worked brilliantly with both technical and non-technical stakeholders, supporting us in thinking creatively and making sites we are thrilled with.

–Dan Duvall

Technical Director, Office of Letters and Light
To learn more about this Organization and our work for them, read the case study.
And if you see ways that we can work with you to create greater efficiency, just contact us (perhaps in fewer than 50,000 words).
See The Big Picture
Database Visualization with Inspector Pro 3.1
FileMaker Developers, you can gain unique insight into your databases through the new interactive visualization features of Inspector Pro 3.1:
Script Universe* – Visual representation of scripts in an interactive, multi-node graph.
Script & Calculation Trees* – Interactive views of dependencies, expanding and collapsing in an interactive tree.
Security Perspective – New matrix-style reports show accounts & privileges across database elements, including basetables, fields, layouts, scripts and value lists.
Inspector Pro 3.1 is a free update from v3.0, with upgrade pricing available from older versions. Demo downloads are also available on the Inspector Pro website. *These two features are currently Mac OS X-only.
If you don't have Inspector Pro 3 yet, please use the coupon code INSPECTORBIG20 for 20% off through December 15, 2011 on your purchase of a new version through the Beezwax online store.
Be A Bee
Innovate. Integrate. Collaborate.
It's been gratifying to be able to hire during this challenging economy. And we continue to do so. We seek super-smart people with excellent communication skills and proven rock-solid reliability.
We're looking for expert developers, with experience in FileMaker Pro, iOS and web technologies — including PHP, JavaScript and Ruby on Rails. We're also seeking Technical Project Managers and System Administrators.
Find out more here: http://www.beezwax.net/jobs.
We're Here To Help
As a recognized industry leader, Beezwax has successfully built more than 1,000 custom database and web projects for over 400 satisfied clients.
If you're looking to improve your FileMaker, web or mobile solution, or to create something entirely new to automate your business workflow, Beezwax is here to help.
Contact us today.