The Buzz Report the latest from the Beezwax blog
Grab CSS From FileMaker 12 Layout Objects
Native Web 2.0 Controls in FileMaker 12 Layouts
Exciting New Possibilities
FileMaker 12 empowers us to build even smarter cross-platform systems to manage complex data and digital content with gorgeous interfaces.
This major release opens up new chances for collaboration between our FileMaker, Web, and Mobile development teams.
Read our thoughts about the exciting new possibilities with FileMaker 12.
What he said
"Oh my gosh! Baffled > Google > beezwax &gt
Simon Brown > problem solved. You're a genius!"
– Rob, comment on
Beezwax Buzz blog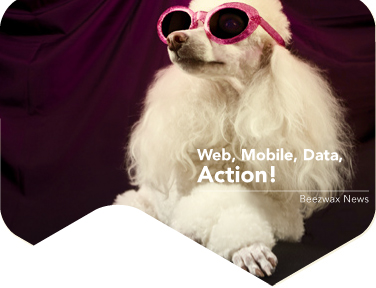 That's Show Business.
Super smart systems, with some Hollywood glitz.
Some clients want it all … robust data management tools, a customer-facing web application, and mobile apps for busy users on the go.
Reel Security, whose business is security and professional services for TV and movie sets in Hollywood and beyond, asked Beezwax to play the leading role in producing an integrated system for three platforms — FileMaker, Web and Mobile.
The system enables Reel's clients to request services at any time, from anywhere. Their web application handles budgeting, location scouting and even suggests where to park your car! For Reel, automating workflow has allowed them to double revenues without adding administrative overhead.
We now have the most advanced online software system for Location Managers in the entertainment industry. This would not have been possible without Beezwax.

–Mario Ramirez, CEO, Reel Security
Reel Security has expanded their services to multiple cities and increased client retention. In fact, having best-in-industry software has helped them to attract some of the hottest clientele in the film and television industry. How's that for a Hollywood ending?
Read more about this multi-faceted information system.
Testing...1,2,3.
Here's one way we drive quality in our web development.
Software evolves. What your organization needs this year may not be what you needed two years ago. And it's hard to predict all of the functionality you'll need in the future.
The practice of automated testing can help prepare for the future and reduce costs over the long term. By adding automated tests into software code, developers can anticipate how a change in one component will affect other components.
Read more about the Benefits of Automated Testing on the Beezwax Buzz blog.
Our New Beez
A dozen new in the past twelve months

We are pleased to welcome new talent to Beezwax. These additions particularly bolster our Web and Mobile development teams. Visit our website to Meet The Beez or find your dream job.
We're Here To Help
As a recognized industry leader, Beezwax has successfully built more than 1,000 custom database and web projects for over 400 satisfied clients.
If you're looking to improve your FileMaker, web or mobile solution, or to create something entirely new to automate your business workflow, Beezwax is here to help.
Contact us today.